TV in the background show images of Bode Miller playing against Andre Agassi in exhibition tennis match sponsored by Barilla during 2004 US OPEN.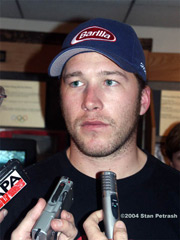 Q: Bode, you play tennis in the off-season, do you play during the season as well?
Bode: I travel with my racquest …
Q: Did you switch racquets from you old equipment supplier [ Rossignol ] to a new supplier [Wilson, which is part of Amer Group, just as Atomic]
Bode: Yeah, I have… Actually, I haven't found much success with it yet… You know, racquets are just like skis, I'm always trying to find a right thing for me, just the right setup.
Q: Sounds like you've found a good setup for the downhill… [Bode just won Lake Louise DH and would win Beaver Creek DH two days after the interview.]
Bode: Yeah, it seems good… The skis are easier to balance on, easier to ski on, seems faster too…
Q: Are dimensions of the new [downhill] skis are different from the previous one?
Bode: No, not so much, I mean, they are doing some different stuff, but in general, it's all the same , it's just skis…
Q: You used to give a lot of input [in ski design] to Rossignol , are you doing the same thing with your new supplier [Atomic]?
Bode: No, not so much…I helped them a little bit with the slalom skis and that's it… The only reason I've had so much imput before and was so hands on is that because the skis weren't good and I wanted them [to be] good. If the skis aren't good, them I have to make them good, because I have to race on them… If the skis are good, I don't want to say anything… Ideally, I wouldn't say anything to anyone about the skis, just go out and ski…
Q: Do you enjoy your partnership with a former Eberharter's technician?
Bode: Yean he is great, Thomas is a good guy, I've met him before, I knew him on the World Cup, um, he's definitely real nice, personable guy…
Q: What do you think about return of Janica Kostelic ?
Bode: She knows how to win… Janica is still young, it's not like she's came back when she's 45, she's still young, even though she has injuries, she is in good racing form.
Q: It seems that great champions are coming back easier than others…
Bode: Yes, definitely.
Q: You've said that you don't think about overall [Championship]…
Bode: I never said that I don't think about the overall… There is no way to predict the overall after one, or two or five races .. The only way to predict the overall is when it becomes mathematically impossible for anybody else to win it. Otherwise, it's just guessing.
Q: Do you think you can win the overall this year?
Bode: I can't answer this question right now.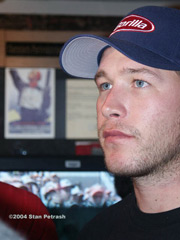 Q: Who you favor in slalom this year?
Bode: It's hard to say… I think Palander will be tough, as always, Raich will be really tough… I know Mario Matt switched to Fischer, I know now he's going to be tough now, the Fischers are working pretty well, and…um, Pranger for sure going to be tough, there are a lot of guys especially in slalom right now that have a ton of speed and, you know, a lot of young, aggressive skiers…
Q: What about Ivica [ Kostelic ]?
Bode: Well, you know, he is one of the guys who are not so aggressive, and he is coming back from some stuff [injuries]… and I haven't been impressed with Salomon skis, but like I said, he's proven that he can win before, he's one of the champions, so it is much easier for him to come back and win than for the other guys, I would not be at all surprised to see him win again…
Q: You are so aggressive on the course, but you don't look so aggressive now… Where do you find this aggressiveness?
Bode: Well, there is no reason to be aggressive right here. What would be the point to be aggressive right here? That's the way you got to think of it. I think about things in pretty logical way. If I would be aggressive here, what would that achieve? I could break your microphone, if you want me too… I can try beat all you guys up, if you want me to do that too… but, in a race, your aggressiveness serves a purpose, it makes you go faster, you can take more chances, you can tighten your focus a little bit, you can try to get a little clarity of thinking so you can make your decisions a little quicker […]
Q: Is it hard for you to change for different types of skis for different races?
Bode: It is not so hard… It is part of the challenge, I've been doing it for a long time…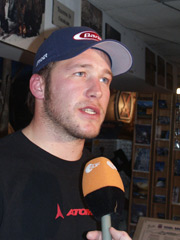 Q: Is there a rivalry between Daron and you?
Bode: Daron and I are good friends, we're both competitors, we both go out there to win, but I don't want to beat him more than anybody else, I just want to win. It seems that more rivalries occur when you are trying to beat somebody else who are trying to qualify [for the second race]… If you start in the 60s [starting numbers]… If you trying to win, then it doesn't matter, you are trying to beat everyone…
Q: What's the point with you and Atomic, with Austrian Federation being angry with Atomic, because they say, you might have taken the best skis of Stephan Eberharter ?
Bode: What do you mean "what's the point?"
Q: As far as we follow it, the Austrian Federation is very angry with Atomic, because, they say that you just got the best skis in the world and you didn't have to work for it, without testing them…
Bode: Yeah, I think it is pretty common sense that they would say that, they've been dominant on Atomics for the long time, and I know that [Austrian] Federation feels like they have a claim for Atomic in a way, but the fact is that Atomic is not an Austrian company anymore, it is owned by a Finnish guy. Even if it was and Austrian company, it does not mean that the Austrian team owns them or anything, or have exclusivity… They are ski company … They came out and asked my technician, they claim that I ski on Eberharter's skis… I haven't run on his skis yet. None of the skis that he skied on, even in the training runs have I skied yet…
Q: Do you know on which skis you raced up to now?
Bode: Well, two of them are new, two are from the same batch as his, one of them Gruber skied for a little bit, one of them Hans Knauss skied in the training runs, but none of the skis that I've raced on (which is only one race), have been race skis of anyone else. They all training skis. One of the skis that I skied on is brand-new, so… One training run that I've skied on was new pair of skis… You know, it's all just… pointing fingers. That's what happens, you know, especially when something unexpected happens, everyone wants to point fingers and it is totally natural…
Q: One other thing that, obviously, comes out of Austria, when we see you drinking beer on the evening before the race, you just made a strong point about that… Just make it clear what is really going on with having seen Bode the night before the race…
Bode: Well, most of the time in downhills like this, I get up at eight o'clock in the morning, so if I go out 'till midnight, I go to bed 12:30 or 1, I'm getting between seven-and-a-half, seven hours of sleep, it's more than normal and it's for sure more than I need most of the time. I don't get drunk usually. You know, people like to make up stories, spread rumors, whatever, I go out have couple of drinks or whatever, hang out and then I go back to sleep and that's it. And sometimes I sleep eight hours […] sometimes I'm just socializing , and I try to balance out other things about my situation that I don't like at all.. And, um, I just try to seek a balance there. I don't think it's having any kind of negative effect on my skiing. You know, people have always were trying to say that it is, and it isn't. It's kinda always been a story with me, people always tried to say what is good for me, and, at the end of the day, it's exactly the same like it was ten years ago. I don't really think about what everyone else thinks or what they want to say. I do what I want to do and, at this point, I've gained some credibility in that and I am not out there f**king around, I'm out there trying to win races.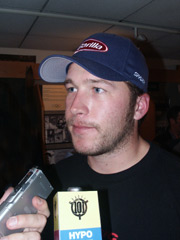 Q: What about something like [Sirius Satellite] radio station thing, and other distractions that surround you right now… How do you stay focused/
Bode: I'm not trying to do stuff at all… The on ;y things I do are the things that I'm obligated to do, stuff like that. The Sirius radio thing, it is not a big distraction at all, I do the recordings whenever I feel like it, I'm totally in my room, by myself…
Q: What's the situation with the skiing in the States, what's the rating of the sport at the moment compared to the other sports.
Bode: How would I know the rating of the sport here? I have no idea… I don't watch any of my races on TV because I am in the races that I am racing, so I don't get to see any of the response in the U.S. because I am not in the U.S., I'm in Europe, or, at the races. I'm probably have less perspective than anyone in this whole room.
Q: But do you have any kind of feedback?
Bode: At the races… People at the races are pretty enthusiastic…
Q: How is the situation with Eric Schlopy , how is he?
Bode: He seems good, he is coming back from the injury, it's a little bit tough, especially since he's been injured so early in the season last year, but, you know, it is similar to Janica's .. and he was off snow for a long time and he was on snow for a little bit…
Q: Is he going to be OK?
Bode: He's skiing great, so I would expect great things from him, especially in slalom… he is really solid.
BODE ON TANNER HALL CONTROVERSY
A little background…
Last November, World Cup downhiller Daron Rahlves has been has been involved in controversy with new-school freeride icon Tanner Hall. Quote by Tanner Hall: "All they do is ski down one icy (expletive deleted) run," "Put me in a downhill and I might not go as fast as Bode Miller, but I'll make it to the bottom. Put any of those racers in the pipe and they won't even go."
Q: Tanner Hall has said that he could run Hannekam [in Kitzbuhel ] or jump Camel Humps [in Val Gardena]… Do you have anything to say to that?
Bode: Freeskiing is a sport based on image. When you build a sport based on image, that IS the most important thing. In the same way ski racing is based on time, we focus on everything we have to do to go fast, those guys will do anything to draw attention to their sport, to make people think that they, you know, more cool, more outrageous… At this point it is more outrageous than anything else, it's, you know, more punk-like, almost disrespectful, that's the image that they are going for… The whole attitude, they whole personality of the sport […] You know, he is not a stupid kid, but, he's always kinda been a punk, everybody who knows him has always known that. […] This is premeditated, thought out process he's going trough. […] This makes no difference to me, he would never back anything of that up… He just saying it to the media, he's saying that to make a point… In general, the public believes everything you guys say, everything that you write in your articles, and he's taking advantage of that. And if he's ever go and run Kitzbuhel or anything like that, he would be out for the next season or maybe forever. People who know the sports know that. Some other stuff he said… He knows that too… I've skied with him… I've hit jumps before, I've done crazy jumps… He's actually clever, his sport stays on that, he's doing the right stuff… to advance his sport, to advance his career.
Ski Racing magazine has extensive coverage of this story and readers comments.
(Editor's Note: This interview was recorded by our correspondent during reception sponsored by Barilla, a main sponsor of Bode Miller. The type of interview would be somewhat rare nowadays, since soon after, US Ski Team has appointed a PR officer to handle all Bode's interaction with the media. We present this interview exclusively for the visitors of YOUCANSKI.com)